Barbara Brackman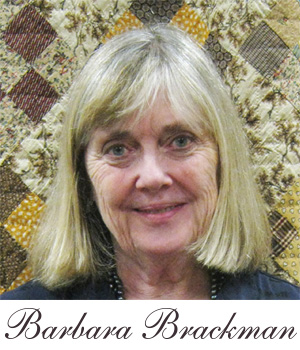 Barbara Brackman has been crazy about quilts since she first encountered them in the midwestern homes of friends as a kid (her New York City family didn't make quilts). It's been a hobby, a business and (OK) an obsession ever since.
She's been designing fabric for Moda for over 20 years, specializing in Civil-War era reproduction prints and William Morris repros with an Arts & Crafts flair. Her latest collection for 2021 delivery is "Ladies's Legacy," with a wide range of print styles and colors based on a quilt from her collection made during the War for a Union soldier's hospital bed but never shipped to the front.
2020 has been busy for Barbara. She's published a new book Divided Hearts: A Civil War Friendship Quilt with C&T Publishing, featuring 12 pieced blocks in a variety of sets with histories of women's war-time friendships across the Mason-Dixon line.
With Electric Quilt she's planning new editions for Fall of both her Encyclopedia of Pieced Quilt Patterns book, indexing traditional patterns, and the digital version BlockBase for PCs & MACs, a computer program that draws over 4,000 pieced pattern, any size.
She and friend Deb Rowden co-curated an exhibit of their wacky quilt collections now up at the Iowa Quilt Museum. Out of Control: Quilts That Break the Rules is on display through October 4, 2020. See more here:
And she loves to blog. Check out her two main pages:
Material Culture: Quilts & Fabric Past & Present
Civil War Quilts specializing in quilts, fabric and women's lives from the era.
Downloads
Classic Basics Metro Style Rubystar Christmas