Letters to Santa QAL - Oct 25
Letters to Santa QAL - Oct 25
Merry 25th of October!  This is our fourth check-in post (only one month left!) for the Letters to Santa QAL.  Read on for sashing/assembly instructions for a batch of 5 words from the main Moda quilt, the final 2 filler block patterns, instructions for a festive banner, and a bit of spooky season alternate inspiration from the #LetterstoSantaQAL on Instagram.
For a reminder of all the details about the Letters to Santa QAL, see the Intro blog post here, and the previous months posts from July, August and September.  This is a 'relaxed fit' quilt along, where we just want to have some fun with Christmas words with all our extended Moda family!  We have our quilts planned, but feel free to jump in with whatever words you like best!  The main Moda quilt will finish 75"x94", and include 25 words and 27 filler blocks total.  The lettering pattern used is the Mini Alphabet Quilt by Primitive Gatherings, which you can find at your local quilt shop.
THE BLOCKS
There are 25 words total in Moda's quilt, which means we're sharing the setting instructions for 5 blocks at a time.  Download a PDF with all the piecing details for October's words here.
The blocks shown are from Moda's Lissa Alexander's version of the quilt, made using scrappy reds, greens, and low volumes.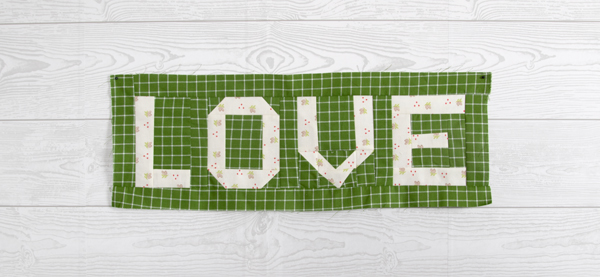 LOVE

RIBBONS
HO HO HO
*You'll notice we did not include the spaces between each HO HO HO in the block.  We found that when you put it in with the rest of the blocks, it 'read' better with the spaces removed.

ORNAMENTS
CIDER
FILLER BLOCKS 8 & 9
There are 2 more filler blocks to share for this month--the final two!  Moda's Tammy V. has been making all of the filler blocks using Candy Cane Lane fabric by April Rosenthal.
If you're making the Moda version of this project, you'll make 3 EACH of each filler block.  Click the links for each below to download.
You can see here where all of these blocks fall in the Moda quilt layout: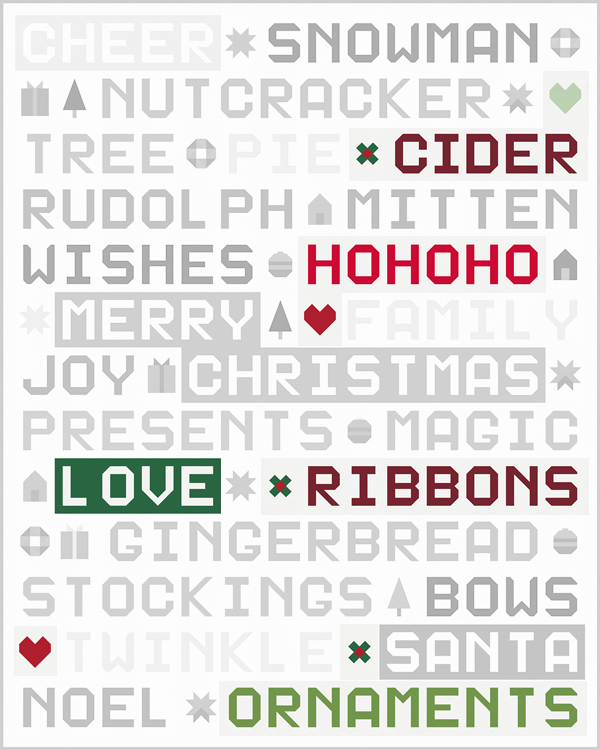 Not to fear, the exact Bella Solids shown in this quilt mockup are listed in each of the pattern downloads!
BONUS PROJECT:  HO HO HO BANNER
The bonus project for this month is a easy banner project that's just the right size to tuck into any spot in your home in need of some festive decor!  Breaking up the HO HO HO block into three lines allows for a vertical oriented project that lends itself to a banner perfectly.
Download the instructions for this project here.
SPOOKY SEASON IDEAS
In honor of this month being October and Halloween under a week away, we wanted to share a bit of inspiration from the #LetterstoSantaQAL hashtag on Instagram, where several sewists have put their own spooky spin on this project!
These blocks are just a few of the Halloween inspired project by @Isobel_and_Mycroft!
@SerenaWelker has a whole quilt put together already!  You'll have to ask her about the candy corn pattern she used, though you could easily adjust the Perfect Tree filler block by adding stripes and knocking off the corners for more of a rounded shape.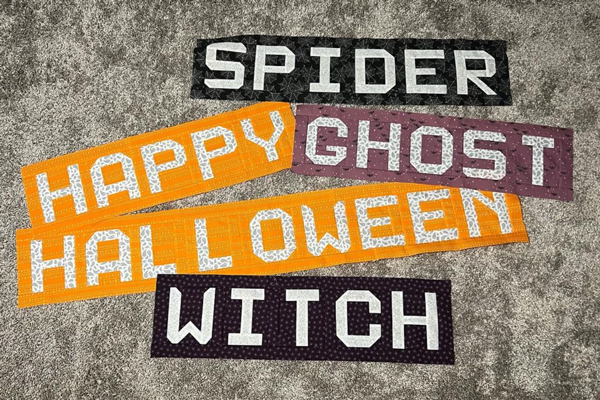 These last two images are from @csmez, who is mixing it up with our filler blocks done Halloween-style, plus a theme appropriate gravestone addition!  The FPP gravestone pattern is from @quiltypie.
Happy sewing to all, and to all a good night!  This is everything for us this month for QAL, and we'll see you again in November for one final pattern drop!  If you missed any of the pattern links in this post:
- Month 4 Word Blocks Settings
- Filler Block 8: Granny's Kisses
- HO HO HO Banner Bonus Project
And also a reminder that the lettering pattern itself is a purchase-pattern, available from your local quilt shop or online retailer!  Mini Alphabet Quilt by Primitive Gatherings (PRI 442).
Make sure to share your progress using the hasghtag #LetterstoSantaQAL on social media so we can see and share your work!  We'll be checking back ont he 25th of every month through November with the next batch of blocks, tips & other project ideas.