Granny Square QAL- Baby Blocks
Granny Square QAL- Baby Blocks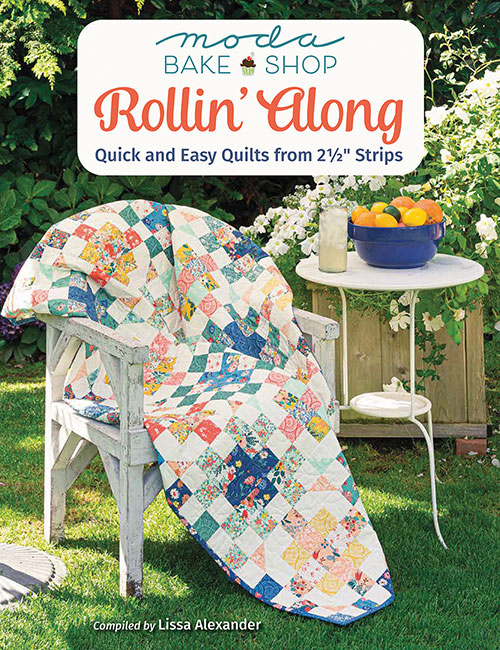 Baby Blocks
Babies…they're cute, but they can be fussy little things. And, like at most family reunions, the babies will require the most attention. 
Hi everyone! It's Christine Weld, back again with another round of the Family Reunion QAL. This week we're tackling the final round of blocks—the baby blocks. It's important to take your time and sew carefully when constructing your baby blocks. Watch those quarter-inch seams! Since there are so many blocks in this outer round, slight variations in size can add up, both in the block and the sashing. Take your time, and ensure that your blocks are neat, precise, and equal.
We haven't talked much about starch yet. Whether you starch fabric, how much you starch, and your preferred type of starch is very much a personal preference, but starching can aid in precision with smaller blocks like this. I'm a fan of MaryEllen's Best Press. It's light enough to keep the fabric from getting that crunchy feel, but it gives it some added stability that allows for more precise piecing. Giving your fabric a quick spritz before cutting is probably a good idea for this round!
I used this happy yellow colorway for my round of baby blocks. I once heard a quilting theory about how you should use yellow sparingly in your quilts. I'm not sure why that's a thing (or even if it ever was!), but I love a bright pop of happy yellow. It's such a cheerful color!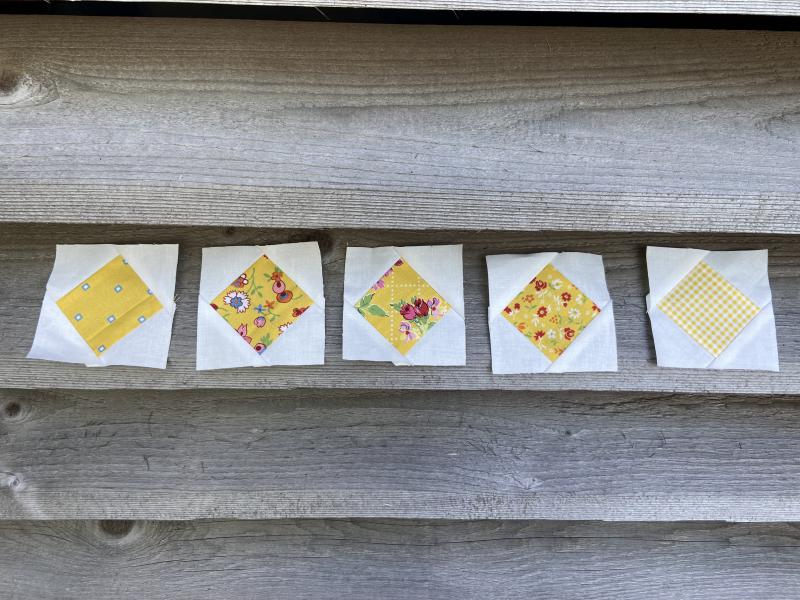 Since there is just a single block, this round functions as a bit of a frame for the quilt. A darker color serves to encase the quilt, fencing in the project, while a lighter color will have more of an ombre effect, trailing off at the edges. There's no right or wrong choice, just what you prefer and what works best for your project. 
Here's hoping your baby blocks are cooperative! Take your time, and remember that we're just about at the end of the quiltalong! Check out my Instagram(@christine.weld) for a fun little giveaway to celebrate our progress!
Happy sewing, everyone!
-Christine
---
If you are just joining us, here are links to the previous posts for the QAL.
Introduction and Get Started with Christine
Next Steps- with Susan of the Felted Pear
Mama Blocks with Michelle Kuhns
Baby Blocks- Here
Check out the contributors to the Moda Bake Shop book, Rollin'Along, in stores now. Stock #B1597
Christine Weld, IG: @christine.weld
Michele, Crayon Box Studios http://www.crayonboxquiltstudio.com/  IG: @crayonboxquiltstudio
Sharla, Thistle Thicket Studio http://www.thistlethicketstudio.com/ IG: @thistlethicketstudio 
Audrey & Diane, The Cloth Parcel www.theclothparcel.com IG: @theclothparcel
Jessica Dayton https://jessicadayon.blogspot.com/?m=1 IG: @jessicadayon
Susan, The Felted Pear IG: @thefeltedpear/
Jen Daly Quilts http://jendalyquilts.com/ IG: @jendalyquilts
Nicola, Cake Stand Quilts https://www.cakestandquilts.com/ IG: @nicolajdodd