Honey Honey...
Honey bun, how you thrill me, a-ha, honey bun
Honey bun, nearly kill me, a-ha, honey bun
I'd heard about you before
I wanted to know some more
And now I know what they mean...
So I might have taken a few liberties with Abba's song.  (It's not the first time, and they're in good company for that.)
I was a little late to the Honey Bun game, mostly because I like to starch my fabrics, and I struggled with getting the accuracy I like.  After Betsy Chutchian and Laurie Simpson told me how they prep their Honey Bun strips, that took care of one problem.  I shared that here - Pre-cuts & Pre-washing.  Then I played around with a trick I'd learned years ago, would it work for Honey Buns?  (And Jelly Rolls.)  It did, and you can find that here - Jelly, Honey & Accuracy.
If you're new to Honey Buns, it's a Moda pre-cut with 40 strips measuring 1.5" x 42" wof.
So what can you make with Honey Buns?  Log Cabin blocks and quilts.  And what else? 
It turns out there are quite a few options. 
This is Rugby by Vanessa Goertzen for Lella Boutique.  Made with Harvest Road Honey Buns, this quilt finishes at 64" x 72".  It is LB 184.
This is Ribbons All Around by Coriander Quilts.  While Corey designed this to go with her Holliberry collection, this is what it would look like using a Canning Day Honey Bun.  Ribbons All Around finishes at 54" x 65", and it is CQ 162.
Using one Honey Bun and one Jelly Roll of Balboa, Chelsi Stratton created this 72" x 72" quilt - Horizon.  It is CSD 117.
Chelsi's Mom and design partner, Sherri McConnell, created Weekender using one Honey Bun and one Mini Charm Pack of Harper's Garden.  Measuring 58" x 68", this is QLD 182.
Checkerboard & Stars by Joanna Figueroa for Fig Tree & Co.  Using a Honey Bun of All Hallows Eve for the Checkerboard star centers, this 77" x 77" quilt is FTQ 1466.
Joanna also made this lovely little quilt using one Catalina Honey Bun and the 6" Pineapple Foundation Papers from It's Sew Emma. 
This is also by Vanessa for Lella Boutique.  It's Modern Herringbone.  Using one Bloomington Honey Bun, this quilt measures 63" x 76" and it is LB 187.
And finally, because Honey Buns really are perfect for Log Cabin quilts.
Sweet Escape by Camille Roskelley for Thimble Blossoms.  This 80" x 80" quilt was made with two Honey Buns of Smitten by Bonnie & Camille.  Sweet Escape is TB 224.
This quilt and pattern are so good, Camille's made it a few times.  Including this Navy and Gray version.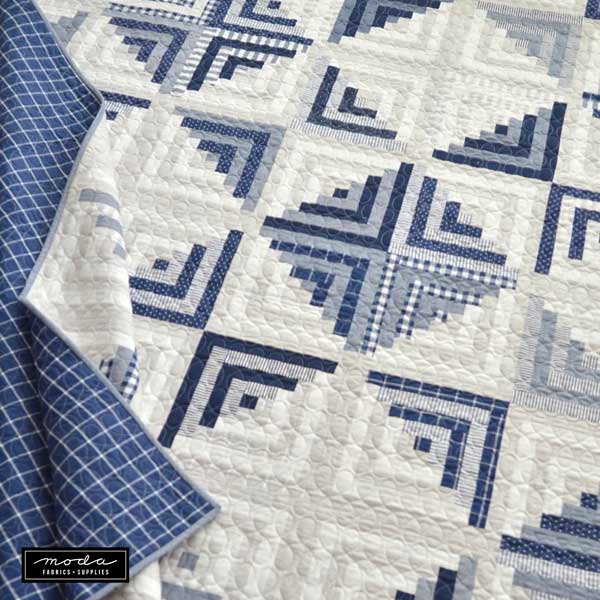 The fabrics are from Bonnie & Camille's Bonnie & Camille Wovens.  (Say thatt three times fast.)
So there are a lot of options for Honey Buns.
If you're looking for something that is ridiculously fun to make, join us next Friday for Honey Games.  Or Bun & Games.  (I like both names.)  We'll be sewing over the Labor Day Weekend, seeing how far along we get. 
One Honey Bun will make 20 blocks that finish at 8" x 8".  Two Honey Buns makes 40 Blocks.  Meaning, two strips measuring 1.5" x 42" makes 1 block.
To plan ahead and get ready, here are size options:
Use 1 Honey Bun to make 20 blocks.  Set 4 x 5, the finished quilt will measure 24" x 30".  With 1" sashing and a 2.5" border, the quilt will finish at 32" x 39".
Use 2 Honey Buns to make 40 blocks.  Set 6 x 6, the quilt will measure 48" x 48".  With 1" sashing and a 2.5" border, the quilt will finish at 58" x 58".
Use 3 Honey Buns to make 56 blocks.  Set 7 x 8, the quilt will measure 56" x 64".  With 1" sashing and a 2.5" border, the quilt will finish at 67" x 76".
Use 4 Honey Buns + 1 Fat Eighth to make 81 blocks.  Set 9 x 9, the quilt will measure 72" x 72".
We'll share a tutorial next Friday, including a PDF download option.  We'll share tips for pressing and cutting, and Lissa's super-cool way of incorporating Jen Kingwell's Lollies into some of the blocks.  The fabrics here are from Jen's Fine And Sunny collection, it's in shops now.
We'll also have a few teasers on social media tomorrow - #modahoneybunqal.  We hope you'll join us.
Have a good weekend.  Stay cool, and stay safe.