Jen Kingwell ~ Amitié Textiles
Jen Kingwell ~ Amitié Textiles
Did you know that Jen Kingwell owns a quilt shop?  Correct that, a patchwork shop.  
A few weeks ago, she shared on social media that she'd recently learned that a lot of her Instagram followers weren't aware that she owned a fabric shop.  While her shop is well-known in Australia, many people knew her as a quilt designer, book and pattern author, template maker, and Moda fabric designer.  (With all that on going on, how would she have time for a shop?)
As part of "getting to know Jen", we wanted to share more about her amazing shop.  You should know that I am a wee bit biased – I visited the shop in March 2019, and pictures do not do it justice.  Walking into the shop took my breath away, I wanted to spend weeks exploring every nook, cranny and corner of the space.  Words like inspiring, welcoming, and energizing come to mind... "it's oxygen for creative souls."
This is the view as you walk into the building - on a beautiful day, the bay door is open.
So Jen... how did you get into owning a patchwork shop?
I partnered with two women I knew to purchase an existing shop.  It was quite country-feeling, which isn't my aesthetic, but it was all a new experience.  In 2000, we opened a second location that had a very different feel to it, the style was quite new for the time.  We stocked Liberty of London, Cabbages and Roses from the UK, and fabrics from Japan, all of which we imported ourselves.  It was such a different look for a patchwork shop.  
We went our separate ways in 2004, one of my partners retired, and the other went into homewares.  I continued my love of patchwork, and opened my own shop in 2005 – Amitié Textiles.
Liberty of London fabrics imported for patchwork.
Where does the name come from?  
Amitié means friendship in French. I wanted a short, one-word name for the business, and I wanted it to evoke the feeling of what I was trying to achieve with the shop.  Warm, welcoming and comfortable.  I still feel Amitié was the perfect choice.
Your first shop was in Melbourne - was it always in the same location?  And do you have any pictures of the first shop?
This is terrible but I don't think I have any photos of the first Amitié stores!  That was before we took pictures of everything for social media.   
We had two locations in Melbourne – the first was in Bentleigh, in the southeast part of Melbourne.  It was quite perfect… except for the leaking roof, which is the primary reason we moved to our second location.  Amitié 2.0 was in Gardenvale, only 5 minutes from the original shop.  While I loved the space, and named my first Moda fabric collection after it, the space was too small for me to fit all my ideas in there.  
Jen Kingwell's Gardenvale collection - the pattern is JKD 5194 Gene Pool.
In 2012, Richard and I moved to the Middle East, and upon our return in 2015, we felt it was the perfect time to fulfil our dream of living by the ocean.  While we moved to Torquay in 2015, we still owned the shop, and were commuting to Melbourne for almost a year before we made the decision to bring Amitié here.  It was one of the best decisions we ever made!  
How soon after the doors of Amitié opened did you start teaching?
You're testing my memory now!  I think it was probably straight away from when I opened the first store.  People had questions, and showing them how to make something helped sell fabric and notions.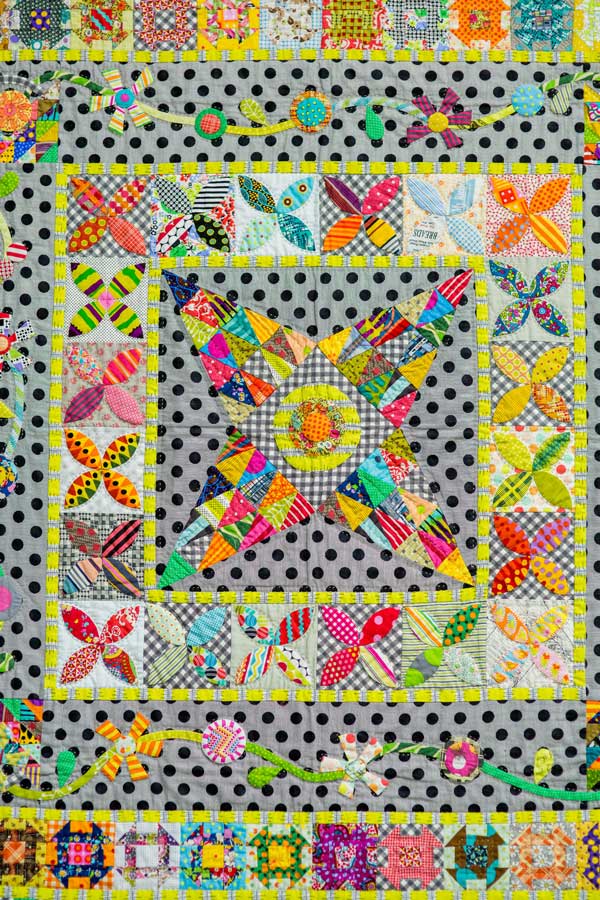 JKD 5088 Midnight At The Oasis.
Last week, I got the cart before the horse, thinking you had started with patterns, instead of with a shop.  So how soon after you opened the shop did you start designing quilts?  And writing patterns?  
Originally, I started writing patterns in the store to support fabric sales. They were printed in the shop and given to customers looking for a project.
The first pattern of yours that I recall seeing was Green Tea and Sweet Beans.  Was that your first "official" pattern?
Yes, it was.  It is the quilt that began my journey from quilt store owner to pattern designer.  
Sue Spargo came to teach at Amitié, and when she saw Green Tea, she began to encourage me to think bigger, to think about going to Quilt Market. I was very reluctant at first, but in her lovely way, Sue persisted, and eventually persuaded me to book my first booth.  It was a bit of a fizzer, as we barely sold a single pattern!  I remember a shop owner looking at Green Tea and Sweet Beans and telling me I was "setting the clock back thirty years with my hand piecing!"  
I was initially horrified!  However, she was a catalyst for me to do my very first machine-pieced pattern Wanderer's Wife - previously named Gypsy Wife - which is my best-selling pattern to this day.  But Green Tea and Sweet Beans will always hold a very special place in my heart.
Before you moved the shop to Torquay, did you consider other locations?
Not really.  Richard and I grew up coming to the Surf Coast area for annual summer vacations. We had always dreamt of living by the ocean, so it just seemed like the perfect fit for us both. Torquay is the starting point of the Great Ocean Road, and an easy commute to Melbourne.  That was an important consideration for us, for both our kids, our friends, and our customers.   
Did you have a specific space in mind when you started looking, or did you see the space that is now the shop, and say "THIS!"?
As soon as we were shown the space, it got my cogs turning.  I knew I could make it something special.
Tell me about the building and how you envisioned it.
It's an old warehouse on Beach Road.  The floors are cement, and the ceilings are 8 meters high.  (That's approx. 25 feet.)  There is space to hang quilts above the fabric shelves, as many as twelve at a time.  The classroom space is large enough to seat as many as thirty-two people at a time.  And I knew the long walls could be colour-coordinated, making it lovely to wander when looking for inspiration.
Describe a perfect day for you at Amitié.
For me, it's everyday. I love walking in there… it makes me smile every time.
This is my view when I walk in the door.  
For the customers, it would probably be arriving to a warm welcome from the staff and the smell of coffee.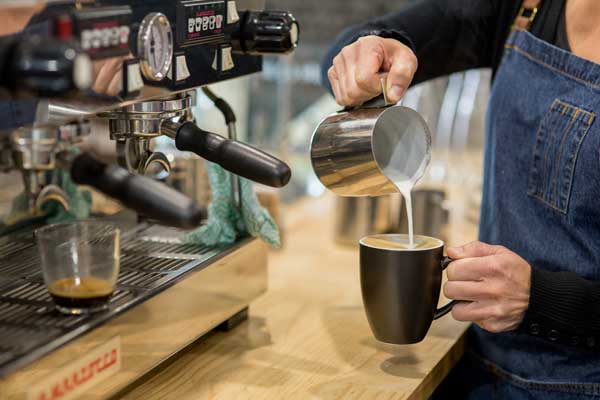 And freshly baked muffins or cookies!  So your first stop would have to be morning tea!
Then you could have a long, leisurely peruse of the shelves and quilts, with some guidance from the team. My staff are so amazing with our customers.
The way I approach patchwork is by colour, so fabrics are arranged that way.  My aesthetic is to mix modern, eclectic fabrics with reproductions, and wovens with batiks.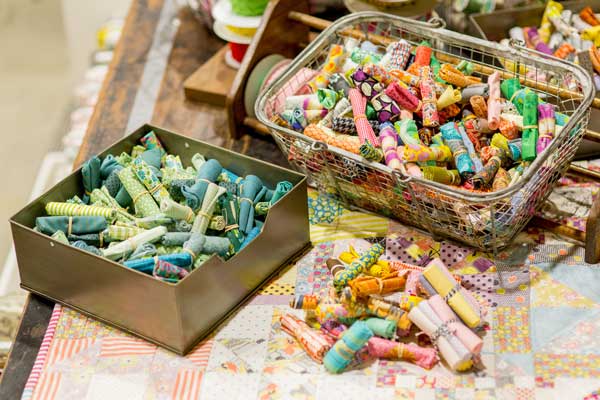 My kind of piecing and appliqué meant that I often needed just a tiny piece of a color or print is how our Lollies came about.  Each Lollie measures about 9" x 11", and we cut them from every fabric that comes in the shop.  They fill bins and baskets throughout the shop, and there is always a large bin near the register.  The Lollies that accompany my ranges with Moda were named after this long-time Amitié-favorite.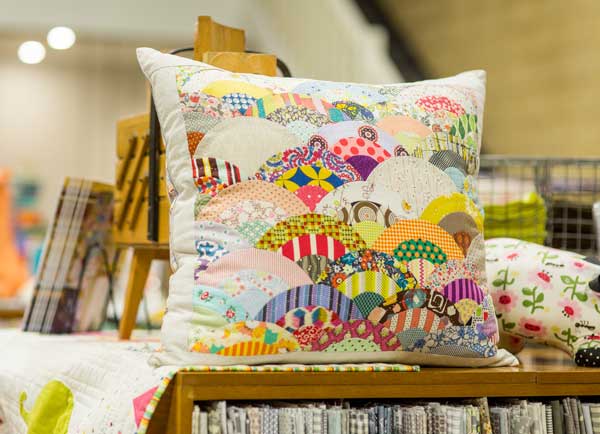 In addition to quilts, the shop is filled with samples from books and patterns.  This is Clam Bake from my Quilt Lovely book.
After a leisurely morning shopping, lunch is next!
Tana, our chef, uses seasonal, local produce to create a delicious, ever-changing menu.  
The cafe has become quite popular with people who work in the neighborhood.  The word-of-mouth in a small town has helped, as has supporting our local businesses.  Totally Pickled is a favorite, they make homemade jams and relishes.
After that, it's one more look around the store before a beautiful two-minute drive to the beach for a little afternoon stroll.
Since you just mentioned it, why did you decide to add the cafe?  (It's a genius idea, and not just because the food and coffee are so good.)
The concepts of food and quilting are so intertwined to me. I've always wanted to incorporate a cafe into my store, and this space was the first one that was large enough to make that happen.
Plus, we were so fortunate to find an amazing chef who understood my vision of small batch, home-baked goodies. 
Tell me about how you decided to outfit-fill the space - e.g., the shelves on wheels are genius.
When I had the small space in Gardenvale, we always had to take guest tutors off-site, and I didn't like it. I wanted to create a space where we could have fantastic workshops and special events without limitations. It was all part of the vision – to make Amitié a whole experience for our customers to escape and enjoy.
The shelves on wheels was part on this plan – I wanted to be able to push these aside to create a larger space for lectures, parties, and whatever we wanted!
All of the fabric shelving, and the tables, can be moved aside to make as much room as we need.  The flexibility of the space was very important.
Our first guest tutor in the new space was Janet Clare, she came just a week before we opened!  We got it finished with what felt like a minute to spare – Janet even helped.  The space worked perfectly.
It would be an amazing wedding venue for true fabric lovers!  haha We could even cater it!!
With the additions of knitting and other stitching, do you feel like you'll run out of space?
Oh, boy have we run out of space! My children call me "expanding foam"... no matter how big the space, I can always fill it.  Over-fill it!
Tell me about the home goods you've added.  
I have always loved homewares, and it's something I've wanted to dabble in. In 2020, my daughter, Abby, joined the business and started spending her weekdays staying at my house. At the same time, she bought an apartment in Melbourne and the two of us were spending hours researching homewares and planning the decor. We have a very similar aesthetic, and we're really enjoying the process. So considering how much time we were already spending looking at homewares, it felt like a fun addition to add a small range of it to Amitié.  It has been a slow process as all the gift fairs were cancelled due to Covid, but when things eventually return to normal, we plan to travel all over the world, doing research and expanding the range.  So it's all really exciting.  
Are all parts of the business within the building?
Yes! Which is really lovely to have everyone together.  We pack and ship wholesale orders, kits are cut in the shop and stored upstairs, our templates are cut onsite, and I even have a sewing studio upstairs.  (No pictures of that, please.)
Finally, is there something you would like to do more of - to expand the vision of Amitié?
Oh wow so many things! But I am keeping tight-lipped as some may already be in the works... stay tuned.
Thank you to Jen for sharing Amitié, and her vision of the shop.  
I've been fortunate to visit many glorious, inspiring, and truly wonderful quilt and patchwork shops in the past twenty years, but Amitié will always be my favorite.  The color and atmosphere, the energy, Jen and her amazing team, the welcoming spirit... they're all factors.  
Next time, I'm chatting with Jen about templates, her Tempters and Postcards, and any tips she has for using them.  (I'm pretty sure hand-piecing will be on her list.)
---------------------------------------------
To see more of Jen and her shop:
P.S.  Not too long ago, Jen advertised on the Amitié social media about having a couple of "job openings."  I left a comment asking "what are the qualifications, and what would I have to pay you to let me work there?"