November
The days are getting shorter, and Daylight Savings Time is done.  The weather is getting cooler, and all I want to wear are sweaters.  
Image by Beth Kellmer - @bethkellmer
Ziploc bags of leftover Halloween candy appeared on the table in the breakroom, and within a day or two, all of the Milky Ways, Dots and Reese's had disappeared.  
Even though we're anticipating the Thanksgiving holiday, it's hard not to look over it's shoulder to Christmas and New Year's.  There's still time to make Christmas quilts and decor, and to help with ideas, four of Moda's designers will be taking over Moda's social media next week.
Tuesday, November 11 - Stacy Iest Hsu with Holiday Essentials Christmas
Wednesday, November 12 - Deb Strain with Home Sweet Holidays
Thursday, November 13 - the Sweetwater ladies with Red Barn Christmas
Friday, November 14 - Anne Sutton of Bunny Hill Designs with Crystal Lane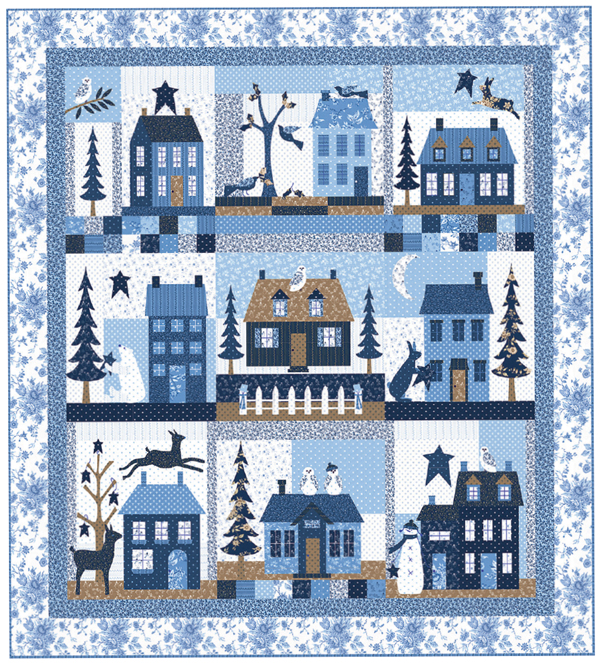 We'll have a few final Christmas Make & Takes this month, a pillow and banner, some very simple stockings, and my absolute favorite quick tote bag for gifting.
If you missed any of the earlier Make & Takes: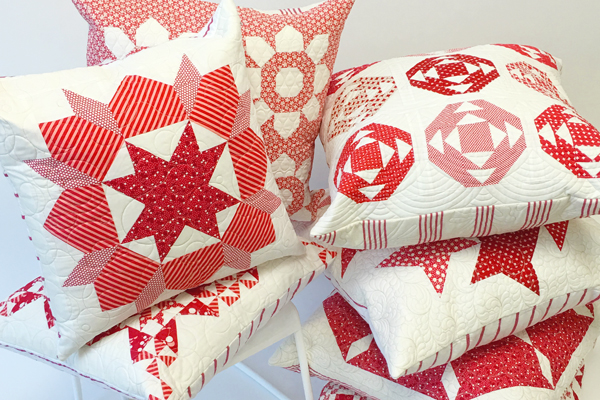 Using an assortment of red prints by various Moda designers, Bella Solid 200 in Off-White, and blocks from some of our favorite patterns, we made a stack of red and white pillows.  There's still time, right?
The weather in Dallas is finally starting to feel "Fall-ish."  We've had a few cooler days, and some rain.  Then it warms up for a week or so.  But some of us are still trying to squeeze in as many of the "Fall feels" as we can.  With food.  
As soon as Tieghan Gerard of Half-Baked Harvest shared this recipe for Creamy Roasted Garlic Butternut Squash, I made up a grocery list.
I made this a week ago, and it was insanely good.  I wasn't sure how it would come together, but as it is with many of Tieghan's recipes, it worked perfectly.  If you're wondering about the crispy prosciutto - don't!  It is a terrific addition, a bit salty, and a bit crispy. I'll definitely make this again soon.
(Several of us in the office follow Tieghan on IG - @halfbakedharvest - and we might have a few of her cookbooks.)
On the list for this weekend - Mushroom-Farro Soup by Ali Slagle for Bon Appetit.
Speaking of food and cooking, I want to share two new cookbooks that I love.  
Simply Julia by Julia Turshen and The Korean Vegan Cookbook by Joanne Lee Molinaro.  While I haven't made anything from either book yet, I have enjoyed reading them.  Make that "LOVED" reading them.  Both women are smart, funny, engaging, confident, warm and generous.  They share the stories behind the recipes, the people in their lives who love these dishes, and why you might need this in your life.  I found the Korean Vegan through Instagram - @thekoreanvegan - and read her story about how she became "famous on TikTok".  Julia is also on IG - @turshen - don't miss her post about making garlic paste.  While I haven't made anything from either book yet, both have quite a few page-marker-stickers.
And finally, while on the subject of recipes... Quilt Recipes.  Jen Kingwell.
These are Jen's quilts made with her coming-in-2022 collection, The Lookout.  The one on the top is from Quilt Recipes, it's a remade version of Winki Stars.  The middle quilt is Stripped, Jen will be sharing that as a tutorial on her blog when the collection ships to shops.  Nancy is the quilt on the bottom, it's made with one of Jen's Template sets.
We're also making projects from Jen's Quilt Recipes book.  To share this book - to savor it! - we're going to be sewing and baking the book for a quilt-along.  To join in, all you need to do is get the book and dive in - #quiltrecipesqal.  A few quilters have already made a quilt or two, and are moving on to another project.  And yes, desserts have been baked!  (More on that - and my results - later this week.)
A couple of last things to share... 
We love this idea from Beth and her crew at 1Canoe2.  Fabric gift wrap - furoshiki.  
For tips on how to wrap Furoshiki - The Art of Japanese Fabric Wrapping.
And this calendar of activities for November and December - The Everygirl's 2021 Holiday Calendar.  I will admit that I like the reminders of a list like this - it's my "to-do list".  For example, I always remember to get holiday cards, but then I don't make the time to write and send them.  This kind of list will remind me to do that.
Also from The Everygirl - 10 Easy Habits That Will Make You Healthier and Happier.  I'm already working on No. 5.
That's it for now.  A bit late.  
I hope you have a wonderful month.