Pouch Perfect: Aneela Hoey's Patterns
Pouch Perfect: Aneela Hoey's Patterns
Aneela Hoey, known for her inventive pouch patterns, shares the inspiration for her first pouch and the new patterns she's stitched up with her latest fabric line Make Time.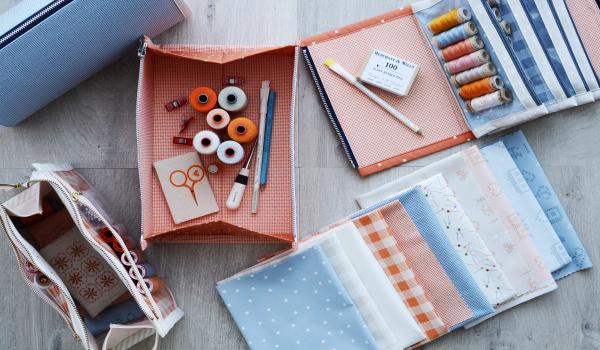 Tell us how you got involved in designing patterns. I'm curious about the first pattern you created—was there a specific kind of pouch or holder you wanted or was it because you didn't see any other patterns that did what it does? Also, I'm wondering whether you have a mechanical background of some kind? Your patterns really are different than so many in the ways they work.
The reason I ended up becoming a writer of sewing organizer patterns is simple-I am fantastically brilliant at forgetting where I've put things. When my first book Little Stitches was published, it came with a set of pull out pattern sheets. I wanted to keep these together to avoid misplacing one or the other. I tried various methods of storing them but nothing worked the way I wanted. A part of the problem was that I had a very strong vision of what I was looking for but nothing I found matched this dream solution in my head. In a very natural way, I began with that idea and tried to create it myself. There was no blueprint to work from-I started by sketching things out, worked out dimensions then moved on to trial and error. It took multiple attempts involving different construction ideas but eventually I came up with a pouch that worked perfectly-the Project Book Pouch. It was a folio style organizer with pockets for the book, pattern sheets, cut out patterns, project and tools (PDF is available here).
I found the first one indispensable, made several more and still use all of them. I didn't write up a pattern for a couple of years but every once in a while someone would comment asking about the pouch in the background of a photo and whether I had a pattern. Eventually there were so many requests, I wrote up a pattern and released it. I was shocked by how well it did from day one and every pattern I've written since then has been built up slowly in the same way. I never write because I think a new pattern is due, only ever because I have a strong idea for something I want to use.
Do you have a mechanical background of some kind? Your patterns really are different than so many in the ways they work.
I don't have a mechanical background but I do have curiosity, imagination, and the willingness to put a lot of work into something until I have it figured out. Most of my patterns take at least two to three years from the initial idea to the finished pattern—some take even longer than this. A lot of that time is spent seam ripping and starting over when things don't work. Most of the time, I wish someone would come and do the figuring out bit for me-it can be very intense and mentally draining. This is the reality of what it is like to create something genuinely different. Sometimes I get called things like 'the pouch wizard' which seems to suggest I just wave a magic wand around and patterns write themselves-how I wish that was true.
You mention illustrating your patterns and your photographs are beautiful, too. Your visual presence is very distinctive, well-honed, and apparent in your clean-lined patterns. What are the things that influence it?
I think it stems from how my patterns can be quite complex and different in construction to other patterns. For the illustrations, I try to keep things simple to make them as easy as possible to follow alongside the written instructions. I try to visualize what I would want to see if I were making the project for the first time. A lot of thought goes into the photographs too—each picture is designed to show something very specific about the finished project.
You're obviously a big fan of zippers. So many people find them intimidating. Do you have any tips you'd share about choosing and installing zippers?
Zipper choice can have a huge impact on how a finished project both looks and works. For best results choose a good quality zipper that complements your fabric choices. My favourite kind are those with metal teeth and donut zipper pulls. I love the sleek, classy finish they give to a project. If you find zipper installation intimidating, try machine basting to your exterior fabric first, then sew to the lining fabric. Adding this extra step really helps to get a neater finish if you find the process tricky.
Is there anything else you'd like to add about your patterns or your fabric?
I loved getting to make samples from some of my patterns out of Make Time. The patterns for the four pouches in these photos are now available through Moda:
I always design my patterns to be as fat quarter friendly as possible. When designing Make Time I tried to include plenty of fabric options that would work well for different pouch components such as pockets, linings, and bindings. I want to make it easy to grab a pile of fat quarters from the line to mix and match for a perfect pouch combination. They also combine nicely to make a fun and pretty-looking quilt. I hope everyone has a lot of fun playing with the possibilities. You can keep up with the things I make online on Instagram @aneelahoey, on my blog, or at my pattern shop.