Summer in the Country: BONUS Grandma
Summer in the Country: BONUS Grandma
Inspired by relaxing with friends on a lazy summer afternoon, porch swings, iced tea and laughter, Summer in the Country is here. Using Back Porch by Me & My Sister Designs, this collection is now available at your favorite independent quilt retailer.
It seems any proper country cottage has at least one crocheted Granny Square afghan available to ward off the cold on a chilly summer evening. The colorful little squares were one of my first crochet lessons with my Nana, and made good use of her scrap yarn. When making this vintage quilt block, I make my setting triangles larger than needed, so I can trim the finished block to 12-1/2". The points on the squares will be just a little shy of the 1/4" seam allowance, which means you're less likely to "nip a tip" when sewing blocks together.

YIELD
12" finished block
INGREDIENTS
From fabric A, cut:
(3) 5" squares, cut diagonally twice
(2) 3-1/4" squares, cut diagonally once
From fabric B, cut:
(12) 2-5/8" squares
From fabric C, cut:
(8) 2-5/8" squares
From fabric D, cut:
(4) 2-5/8" squares
From fabric E, cut:
(1) 2-5/8" square
INSTRUCTIONS
STEP 1. MAKE ROWS
Sew print squares in rows to as shown, paying attention to layout and number of squares per row.
STEP 2. ADD SIDE TRIANGLES
Add setting triangles to the ends of each row.  Align triangles as shown. Triangles are oversized and will be trimmed once the block is fully assembled.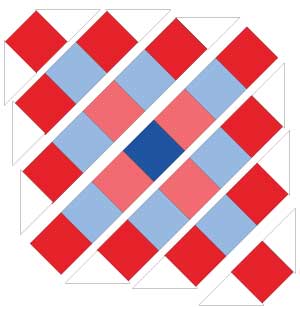 STEP 3. JOIN ROWS
Join rows created in step 2. Pin to match points and align each row.
ASSEMBLE THE BLOCK
Join block units as shown. Trim block to 12½" unfinished size.
Anne Wiens
Sweetgrass Creative