UnBoxed - Break of Day
Hello!  I'm Jackie MacDonald of Sweetfire Road and I'm delighted to meet you!
I'm Jackie MacDonald of Sweetfire Road and I'm delighted to meet you!  I'm so grateful to be one of the newest designers to the Moda family and I can't wait to share what we have in store for you!  I'd love to share a little bit about myself and introduce you to my debut collection for Moda - Break of Day.
I grew up near the Blue Ridge mountains in beautiful Virginia.  As a child, the countryside road that led the way home was dotted with apple orchards and queen anne's lace.  It will always influence my art, I think, with memories of its beauty.  Today, I live with my husband, Neil, and our son, Sammy in a lovely quintessential New England town in Maine.  We are surrounded by such gorgeous natural beauty with both the forest and the sea nearby.  I have been blessed to live in some lovely and inspirational locations.  
I love evoking beautiful, nostalgic memories and connecting with people through my art.  I believe we all crave connection so I try to create color palettes and motifs that bring to mind shared experiences that we've all loved such as tending a garden, strolling in the woods, berry picking, etc.  My wish is to create art that celebrates the magic of everyday life.  In my former career as a product developer, I designed candles for a fragrance company.  I loved the way you could connect someone to happy memories via scent.  Now, it is a great passion of mine to continue to make that connection with people through my art.  It's such a gift to see my art come to life on fabric and seeing that fabric become a part of a cherished quilt is absolutely the most rewarding gift of all. 
My brand's name, Sweetfire Road, is born of the notion to always lead with kindness (be sweet) and have a passion (fire) for my design work.  And I strive to create artwork that "leads you home"... just like an old, familiar country road.  I would describe my style as nostalgic, romantic, and illustrative...with a touch of wonder. Colors that I use in my art are often inspired by Mother Nature.  Moody and sophisticated colors such as steely gray, garnet red, inky blue, moss, rust, honey, blush and plum are my personal favorites.  I love to create my artwork from flowers and plants in my own garden or from my imagination.  Most days you can find me playing with color, sketching art with pencil and paper and daydreaming of new ways to decorate hearts and homes with my art.  I'm overjoyed to share this journey with you, and without further ado, introduce you to my new collection for Moda, Break of Day.
Break of Day evokes a sunshine-y spring morning on an idyllic farm.  Starring some sassy feathered friends and a bright, fresh color palette, this collection features an illustrative style with roots in vintage storybook drawings.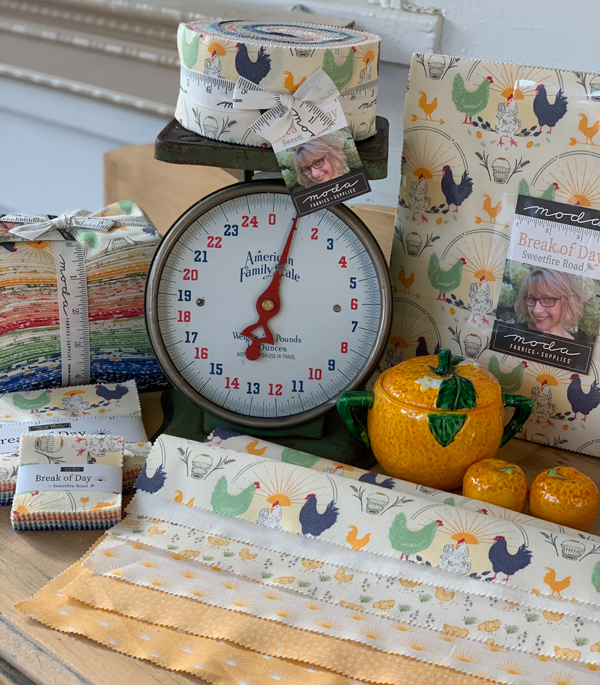 You'll find over 34 colorful prints in this versatile collection.  Cornflower and navy blues, sherbet peach, fresh farmhouse green and buttercup yellow provide a multitude of palette options for your next project. 
Moda has so kindly partnered with me on a multitude of gorgeous quilts for this collection… and three of them are free! 
The first is Chicken Coop.  It finishes at 48" x 64".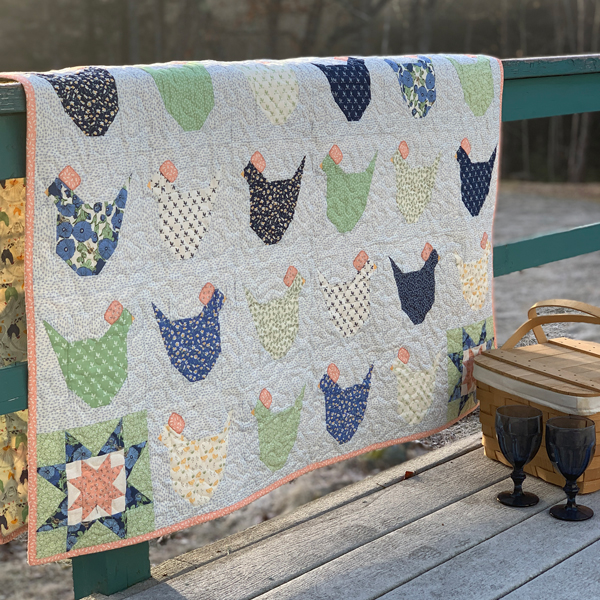 O' Beautiful Morning is... well, it's beautiful.  It is made with assorted yardages, and it finishes at 64" x 76".
And Chicken Scratch.  It's made with a Fat Quarter Bundle, and it measures 64" x 78".
There is another pattern available through shops, it's Here Chick, Chick, and it's a Mini Quilt.  Inspired by vintage farmhouse grain sack bags, this mini quilt features a charm pack, some raw edge appliqué, and basic quilting and embroidery skills.  It finishes at 24" x 36" and is SFR 0001.
I'm already being asked about which Bella Solids to use with Break of Day.  I think these match nicely:
384 - Carnation
297 - Peach Blossom
88 - Bubble Gum
47 - Scarlet
230 - Cherry
24 - Yellow
51 - Buttercup
291 - Chrome
290 - Marigold
81 - Goldenrod
448 - Soft Yellow
395 - Azure
167 - Amelia
305 - Regatta
19 - Royal
76 - Kelly
74 - Green Apple
133 - Mint
398 - Cucumber
(If you shop for these Bellas, remember it is 9900 and then the color number.)
And that's Break of Day.
Thank you for sharing this journey with me. 
Jackie
P.S. For more about my Moda adventures, sneak peeks, free patterns and who knows what else, I warmly welcome you to follow me:
Be sure to ask for Break of Day at your favorite quilt shop.