UnBoxed - Confection Batiks
UnBoxed - Confection Batiks
Remember what it was like to go into a candy store and to want one of everything…in every color? Confection Batiks will indulge that impulse!
During the summers when I was a little girl, our family would visit Block Island - a small, blissful island gem off the coast of Rhode Island. Among the seaside shops that dotted the main street was a place called "Harbor Sweets", the one and only penny candy store where you could buy everything from salt water taffy to homemade chocolate fudge. I remember walking into the small space with its dark, hardwood floors, the smell of sweet sugar and walls of glass containers filled with colorful treats. I wanted one (or more) of everything! Confection Batiks is an eclectic mix of hand-carved block prints in savory candy colors of blueberry, raspberry, strawberry, mint, currant, lime and melon. This yummy collection lets you be like a kid in a candy store where you can mix and match and try every flavor!
I started designing this collection by carving some woodblocks - which I love to do. There's something beautiful about the handmade feeling that is carried through the batik making process. Here are some of the blocks I carved. You can look for these shapes throughout the collection.
After carving, I ink the blocks and print them to my hearts content!

Sometimes in repeat, sometimes just on their own to get my creative juices flowing.
Then it's time to work on a palette to bring the designs to life. I have a bulletin board in my studio space where I collect and group colors that resonate with me. You can see some of that here in pinned magazine clippings.
In the upper right, you can see that I've matched my palette to the closest Moda Bella Solids so you can mix in solids as you wish. I always recommend pre-washing solids for shrinkage if you'll be incorporating them with batiks. The batiks have been already been washed during the dyeing process.
I designed a fun quilt pattern called "Harbor Sweets" to go along with this collection.

If you like star quilts, you'll love this one because you'll never lose a point on your star... ever!
Harbor Sweets is a big quilt, finishing at 91" x 91".  If you want a different size, you can omit or add rows to make it whatever size you like.  My quilt was made with one Confection Batiks FQ Bundle or 36 fat quarters.  And background.  The pattern is KS2001. 

The Harbor Sweets pattern is also available as a PDF Download on my KD Spain website.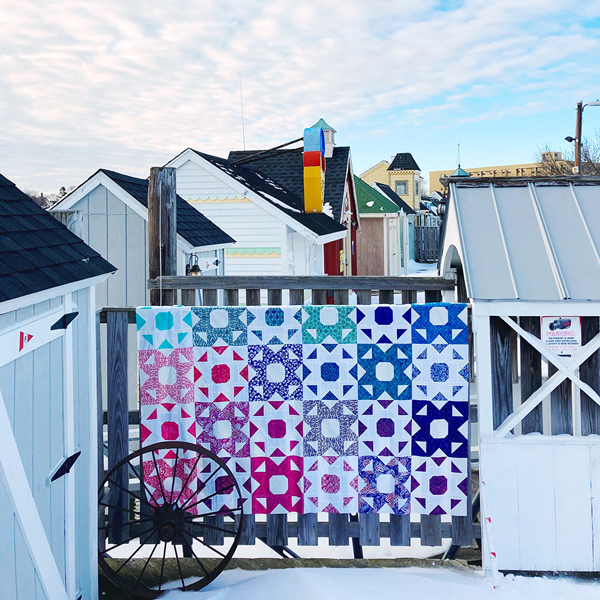 If you make the quilt, use the hashtag #harborsweetsquilt so I can oooh and ahh over your creativity!
I love this pretty red-and-white version made by Jessica - she's @craftycop on Instagram.
While it's a simple block design, the quilt can take on a totally different look depending on fabric selection and placement. The pattern includes three options with fabric requirements for each. There's the one shown above where the blocks alternate the position of the prints, and then there are these two options:
All of the stars and corner pieces are set to emphasize the print. 

This simply has the placement reversed.
Some of you may follow me on Instagram - @katespain - where you may have seen that I joined a super-fun QAL using the Exploding Heart pattern designed by Laura of Slice of Pi Quilts.
I used a bunch of the blue/turquoise/teal/purple prints from Confection and mixed in a couple prints from my other batik collections.
It's been such a blast!  Btw, you may not know this about me, but one of my quilting superpowers is that I can assemble quilt tops in the blink of an eye. Wanna see?
(P.S. Someday I'll make a real design wall!)
I finished sewing the quilt top together just in time to take it for a snowy walk around our neighborhood.
Thanks for visiting the Cutting Table today and for reading along. I hope you've found some treats and inspiration to take back to your sewing rooms!
In the meantime, come join me on instagram @katespain) and Kate Spain on Facebook.  I always look forward to seeing what goodies you're working on!
Kate
Ask about Confection Batiks at your favorite quilt shop.