UnBoxed - Flea Market Fresh
UnBoxed - Flea Market Fresh
Imagine shopping the flea market for vintage trinkets and treasures, and happening upon a flower stand with free, fresh, vibrant blooms… it's like that.  This is Flea Market Fresh.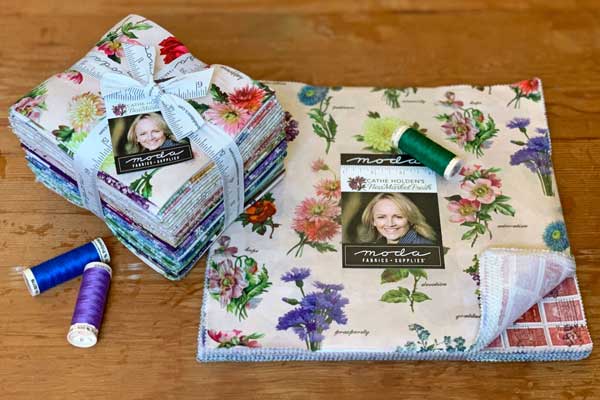 I didn't set out to design a fabric collection with purple as one of the main colors. In fact, purple is not a color I'd used much, if at all, in any of my previous design work. But when I began collecting and sorting vintage ephemera as a visual starting point for this new collection, rich purples kept showing up, over and over again. I didn't fight it. I embraced it. And I love, love, love it! Then deep blue and gorgeous green stepped in to share the spotlight.
The richness of the colors, the sharp detail of the digital printing, and the large scale of the graphics in my Ephemera Flat Lay print are completely fabulous for all kinds of projects for the quilter, crafter and maker.  The Flat Lay has two options with Parchment and Lavender backgrounds.
To complement the array of advertising graphics, I designed a series of faux vintage postage stamps in aqua-greens, blues, lavender-purples, reds, golds, multi-color combination, and Parchment.
The coordinating stripes resemble vintage pillow ticking, and come in Parchment, blue and green, and lavender and blue.  If you look closely, you'll see the ribbons in the design read HAND MADE.
To add neutrals to the collection, I utilized my collection of old ledger books collaged in both Antique (dark) and Parchment (light) fabrics with handwritten lists, names, and calculations of yesteryear.
Adding a bit of texture to the overall grouping, I gathered up my collection of embossed vintage Ironstone plates and created a scalloped pattern that works well in any direction.
I adore collage. The collecting, the contemplation, the creation. Overlapping this and that, combining advertising, photographs, and florals. My Flea Market Fresh collage fabric is just right as a full-cloth quilt, quilt backing, or utilized a single graphic panel for smaller sewing or embroidery projects. The photo of the woman I chose reminds me of my neighbor and friend, Susan, who often meets me at the gate of our common fence to visit.
Luckily for me, Susan is a flower farmer and Wine Country wedding florist. So, when I had the idea to create a fabric garden of my own from my vintage postcard collection, she gave me meanings for each type flower to include among the blooms. The botanical-style fabric has backgrounds of Parchment, Navy Blue, Hunter Green, and, of course, the most gorgeous Purple!
There are a total of twenty different SKUs in the Flea Market Fresh collection, just right for depicting the twenty mattresses in the beloved story of The Princess and the Pea.
The collection takes on delicious berry colors in the kitchen with this wonderful Princess Oven Mitt and other sewing projects by Sarah Gozzo.  (Sarah is @princess_ina_pouch on IG.)
Combining the botanicals and postage stamps, Karen of Creamcraft Goods designed this gorgeous Gathered Tote Bag.  (See more of Karen's creations at @creamcraftgoods on IG.)
Utilizing a graphic from the Ephemera Flat Lay fabric, Linda Crouch crafted an adorable little lamb lavender sachet to add to her Flea Market Fresh Collage tote. (Find Linda at @missyfromminnesota on IG.)
I really enjoy a slow-stitch project on a mellow weekend like this one I crafted atop a vintage crochet-edge luncheon napkin featuring snippets from the Flat Lay fabric over the Parchment plates, ledger pages and postage stamp designs.
I designed a quilt and table runner in cute Scandanavian-style called Scandi Dandy that is available for FREE download on the Moda Fabrics Free Patterns page.
The background for Scandi Dandy is a Bella Solid in Steel.  I also like these Grunge Basics with Flea Market Fresh.
30150 225 - Navy
30150 245 - Eggplant
30150 383 - Lavender
30150 436 - Marble
30150 491 - Flora
30150 494 - Everglade
I hope you'll ask for Flea Market Fresh at your favorite fabric store. I can't wait to see what you create with it! To see what creative things I keep busy with, please join me over on my Instagram - @catheholden.
Wishing you a wonderful Summer,
Cathe
For more with Cathe: