UnBoxed - Maryland
Hello!  My latest collection is Maryland, and it was inspired by my love and appreciation of Baltimore Album quilts.  I have adored them for many years, and wanted to design a fabric line with a nod to these traditional works of art.  To style these Baltimore blocks in a fresh way, I choose to give them a carved wood block look. Using simple shapes with fine details, my goal was to create high contrast images that really popped!
This Baltimore-inspired panel measures 24" x 44" wof, and it comes in three color options - Linen, Whole Wheat and Nightfall.  (Nightfall is shown above.)
One of the things I liked about using these black and neutral colors was that I could add a pop of color – any color!
In my pattern, In the Treetops, I add a bright red cherry!
In The Treetops uses a Maryland Charm Pack, a smidge of red, and a piece of Moda Flannel for the background. The pattern also includes a detailed embroidery stitch guide. It finishes at 16" x 20", and it can be quilted and bound, or framed. 
Many times, I tend to design a project that is something I actually need in my real life and the table runner, Birch Lane, has a home in my home.  I'm lucky enough to have inherited my grandparents' wedding gift to each other, their dining room table. Birch Lan sits proudly on my cherished table.
This pattern is also Maryland Charm Pack-friendly along with a fat quarter of the Trailing Vines Nightfall 7032-17. 
The background fabric is a Moda Basic, 16" Toweling 920-181.  It finishes at 16" x 54".
Both of these patterns, Birch Lane and In the Treetops, are perfect projects for the hand work enthusiast!  There are numerous embroidery stitches to keep it fun and interesting. Perfect take along projects.
I wanted to challenge myself to design a quilt using a Layer Cake.  This is a very easy quilt to make and it really makes a strong graphic statement.
The quilt is called Picture Corners - KS 2007.  The black diagonal corners reminded me of the old picture corners that held family photos in place in albums filled with memories.
I am lucky enough to have a good friend who designed some spectacular patterns using my Maryland collection, Barb from Coach House Designs.
My Baltimore uses four of the Maryland panels, and it can be made in any of the three colorways.  It measures 51" x 60" and it is CHD2016.  I think it is stunning!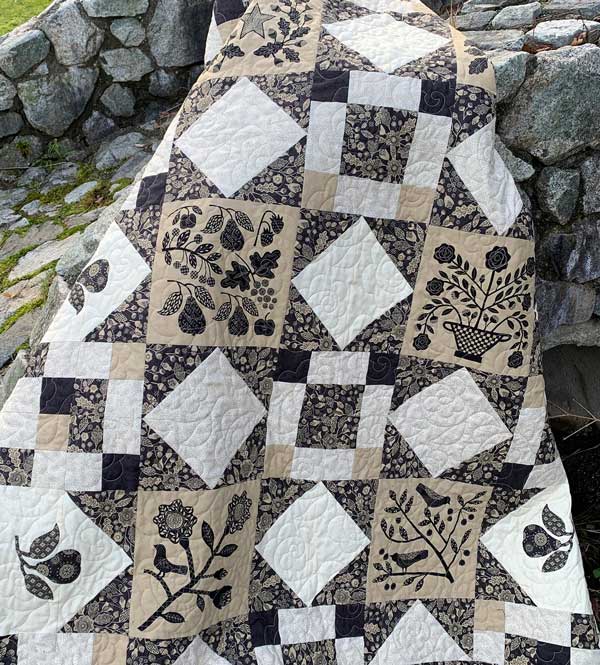 Meet Me in Maryland also uses a panel, has simple piecing, and darling fused pear appliques.  CHD2015 finishes at 58" x 76".
This is the third quilt Barb designed for Maryland - Flower Market is CHD2017, and fit inishes at 58" x 78".  The pattern includes the instructions for the 14" x 44" table runner.  Both are made with yardage from the Maryland collection.
I hope you're inspired to bring a bit of "Baltimore" to your home with Maryland. 
Kathy
Be sure to ask about Maryland at your favorite quilt shop.
For more with Kathy: