Gingiber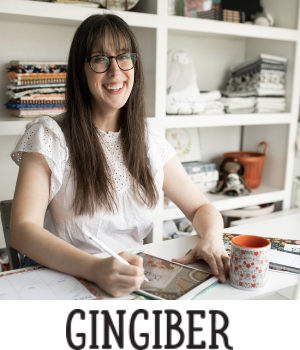 Stacie is an illustrator, a mom of 3, a wife, and a proud Bloomfield, living in an adorable corner of beautiful Northwest Arkansas. She was a childhood creative, constant doodler, academic overachiever, and joy chaser who knew that all of those bunnies and puppy dog doodles she would sketch on napkins at restaurants would help her to become an artist when she was older. 
Longing to truly find her creative voice, she studied printmaking and graphic design at university. A pit stop as a coffee shop manager, soon turned to an Etsy side hustle. She sold handmade pillows, art prints, and onesies, and worked in the margins of her already busy life. Coffee and a "never give up" attitude led to the creation of Gingiber, Stacie's signature brand of illustrative gifts and stationery for women.
Today, she leads a team of the most talented and hardworking women in Gingiber's "Blue Door" Studio. Her team created the most relatable and beautiful cards, stationery, and gifts for women who need a dose of encouragement and a nostalgic dose of beauty. 
Her beloved "Tea Towel Club" monthly subscription has delighted the counters of thousands of kitchens in the United States.
10+ years of slow and steady growth has led to longstanding wholesale relationships, tens of thousands of loyal and caring fans, and celebrated licensing collaborations and partnerships for home decor, nursery bedding, fabric lines, clothing, wallpaper, and books. Gingiber wants to partner with respected brands and trustworthy products.
Stacie also teaches artists how to help their own sprouting art businesses grow through her online courses and membership.
And to top it all off. She has plenty of time to binge watch "Anne of Green Gables". Gilbert Blythe forever.
Downloads
Classic Basics Metro Style Rubystar Christmas